Enjoy The Best Online Vegetable
Garden shopping Experience
Great products, large stocks and lots of experience ...
To get the best online vegetable garden shopping experience, you can now visit a selection of the most popular, proven and experienced online gardening product suppliers from right here on this page.
Let's be honest, many challenges confront the vegetable growing fraternity - always has done! - but we are fortunate to be living in times where enormous advances have enabled us to have access to better quality vegetable seeds and plants due to superior germination and disease resistance qualities.
My Resident Wood Pigeon Loves Young Plants and a Ready
Cover Against Weather Damage - Harrods Has It Covered!
Large Cabbage White Butterfly Catterpillar And
Its Eggs Under A Brassica Leaf
Advances in materials technology and production techniques means we have access to modern gardening equipment and tools which take the drudgery and backache out of the heavy work. Also enabling us to grow our precious plants in protected environments including vegetable plants those that would not usually grow in our climate. Eg. greenhouses and cold frames.
You can now go vegetable garden shopping for inexpensive cultivators or a manger type raised garden bed which gives easier accessibility, ideal for our older, less mobile and frustrated vegetable growing friends.
Then there's the weather, perfect for all the types of plants we grow - who's kidding who! I think it was attributed to Bob Hope (British Born) who said that here in the UK we can experience all four seasons in one day... I can see you nodding in agreement so an online vegetable garden shopping spree might be a good thing for finding out about plant protection products.
Then there's slippery Sid the snail and Co. Bobby blackbird and big brother Peter pigeon - to name just few of the vegetable growers potential 'enemies'.
The range of products that are avilable to you to aid you in growing vegetables better when you are vegetable gardening shopping is vast and exciting:
Growing vegetables in containers - for patio and small gardens etc.
Growing organic vegetables - seeds, plants and composts etc
Garden equipment
Organic garden pest control
Biological pest control
Vegetable seeds
Vegetable plants
Greenhouses and equipment
Irrigation equipment
Propagators
And much much more ...
It's all here for you - have a great vegetable garden shopping experience and get growing as soon as you can ...
Yes! It's all so rosy. That is, of course, if you're back in the Garden of Eden. But here and now we might just welcome a little assistance in leveling the odds a bit.
So here on this page just click on any of the links below and you will be taken to a vegetable garden shopping company who kindly sponsors this site - Harrod Horticultural.
They offer good quality products at very reasonable prices and have an excellent reputation. I have shopped with them on a number of occasions for my vegetable garden equipment and accessory needs.
Ok! it's time to purchase some of that essential vegetable garden equipment and use it to maximise your harvests so that you no longer waste your time with failed, damaged or reduced crops...
So click away, browse and enjoy Harrod's vegetable garden shop - you'll be in good company.


When clicking through to any Harrod Horticultural product/s just insert LVGG into the Offer Code/Source Code box when you go to their 'checkout' page and you will receive 10% discount off your basket's total. So while on their site shop around and get more for less.

Gardening Pest Control - Giant Crop Protection Tunnel Packs...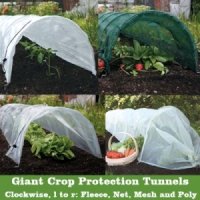 An effective gardening pest control available in sets of two, keeping your allotment and kitchen garden crops protected in a big way almost all year round thanks to the variety of coverings.
Choose from a selection for effective barriers against vegetable plant pests:
1. Fleece for winter protection
2. Polythene for early and late season growing
3. Micro-mesh version keeps out insects/minute pests
4. Net tunnel for stopping birds
Vegetable Garden Shopping

Create An Instant Raised Bed Vegetable Garden
Even On Your Patio Or Deck...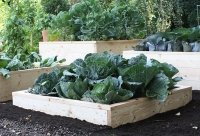 A raised bed vegetable garden is a must for every would be vegetable grower. They are so flexible, make planning and management much easier, more vegetable plants can be grown per suare foot, BUT ABOVE ALL (the following reason is worthy of the capital letters) - you no longer need to do any preparatory digging each year... Hurray!
I have never ever dug over my raised garden beds, I just keep adding my home made compost, raking it into the surface and letting nature do the rest.
There is no doubting their popularity as people realise the numerous benefits of raised bed gardening.
You can select from sturdy natural timber raised beds with wood used from sustainable sources or easy to assemble plastic kits.
The advantages of raised bed vegetable gardening has become obvious to many:
Able to grow vegetables in otherwise unsuitable soil or locations
Improves drainage on shallow, chalky, stony or heavy soils
Increased soil depth enables deeper root growth thus healthier growing vegetables
Tunnels, frames or clotches can easily be erected over beds
No need to walk on the soil thus eliminates compaction
Raised garden beds come in varying heights enabling a comfortable work height
Great for wheel chair users and folk suffering from back troubles
Harrod Horticultural have thought of everything to make your raised bed vegetable garden experience a genuinely enjoyable one even if you think you haven't the space with their:

Vegetable Garden Shopping

Net Yourself a Bumper Harvest - Keep Out Garden Pests...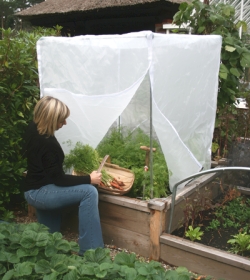 Garden netting is very effective in keeping garden pests from your growing vegetables and should be very much a part of your vegetable gardening pest control equipment. It is very effective in guarding against such animals as birds, deer, rabbits, foxes, badgers etc.
Garden pests are an irritation at best and are downright destructive at worst. Believe me I speak from experience, my tail of woe refers to those lovely cuddly critters called cat's.
Before I went in to have my evening meal recently I was admiring a couple of rows of Russian Kale seedlings which were growing on strong and clean, I was very pleased with them.
An hour or so later I came back out and went to the same raised garden bed, to my horror and frustration a cat had dug its toilet right in the middle of the two rows of my kale vegetable plants destroying a third of both rows.
Fortunately this episode had a happy ending as I was able to transplant some of the thinnings from other areas in the row to fill the gaps - after removing the cat's droppings.
It just illustrates how you should always be on your guard and that prevention really is better than cure.
But garden netting isn't only effective against larger animals, using the right grade you will also keep your vegetable plants clear of smaller plant pests as butterflies, moths, aphids, onion or cabbage root flies etc.
Harrod Horticultural supply a large range of garden netting of different grades along with Extra Value Saver Packs.
Even experienced gardeners don't always take their own advice - last year I didn't net my sprouts (too lazy probably) thinking that I would be vigilant and 'pick and squish' those megga garden pests, the catterpillars. I was wrong, I got a crop but it's was drastically reduced. It won't happen this year - like a rainy day at The Oval, the covers have gone back on.
Vegetable Garden Shopping

Fruit Cages - A Must-Have In Your Gardening Pest Control Arsenal...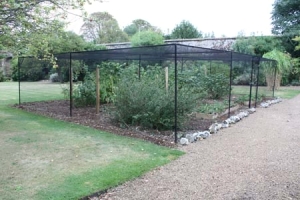 Soft fruit is one of those exceptional pleasures that we can enjoy right in our own back yards. There is little to compare to the taste of fresh strawberries or raspberries picked from the plant and consumed within moments.
As I look out of my window at the pigeons, blackbirds, varieties of finches and starlings, I can see just by the glint in their eyes as they perch longingly above or amongst my growing raspberry canes, they too can't wait to massacre these delights.
Fruit cages are the perfect deterent against these garden pests though, and Harrod Horticultural have an amazing variety of them for you to browse and purchase.
Harrod Hoticultural's range of Fruit Cages and Fruit and Vegetable Cages include:
Whatever your need they have an answer to it which will help you overcome one of the fruit and vegetable grower's major challenges - protecting your crops from gardening pests like birds.
They've literally got this aspect of gardening pest control covered as there's a structure perfect for keeping your valued plants safe and still be able to enjoy our feathered friends!
Vegetable Garden Shopping

Visit Our Growing Vegetables in Small Spaces Page From Vegetable Garden Shopping and check out how you can use all that empty space that's above ground level...


Return to Alphabetical List Of Vegetables from Vegetable Garden Shopping