Some Creative Green Container
Gardening Ideas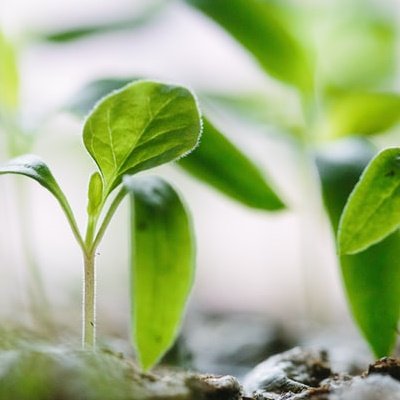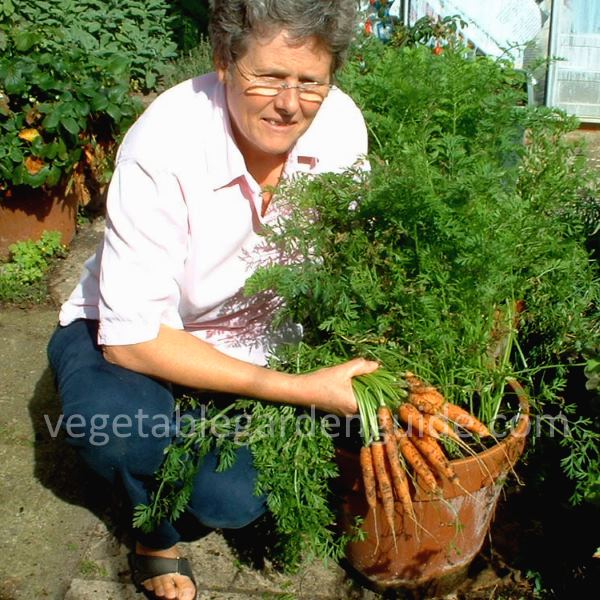 'Early Nantes' Carrots Growing in Terracotta Pots 
Here are a few container gardening ideas for you to consider. In the green spirit of recycle, reuse and reduce, these suggestions make use of items you might normally throw away.
See Growing Carrots in Containers

---
Egg Cartons
---
Egg cartons are great for starting seeds indoors while it's still too cold to plant outside. The ones made of thick paper or cardboard are best for this purpose - they can be added to the compost heap later. Other types too can be used eg those made of plastic, as long as you make some drainage holes. A knitting needle is just about the right size for making holes.
You can line the inside of the containers with paper towels to prevent soil loss through the drain holes. Your kitchen counter can double as your greenhouse. You can place the cartons on bath towels to absorb any excess liquid.
Fill each egg indentation with a couple of tablespoons of potting soil or growing mixture. 
Be careful not to become confused and sprinkle it on your cereal as roughage ;0)... 
Place one or two seeds in each space, depending on the type of plant. Add water and sunshine. Your seeds will sprout and be ready for transplanting after the threat of frost has passed. If you clean and dry your plastic ones, you can develop a recycled gardening container supply, reusing the cartons next year.
Examples Of Gardening Containers

---
Food Containers
---
Tin, aluminum and plastic containers like coffee cans make useful containers. This container gardening idea keeps them from ending up in the landfill. Other food containers can be used, too. Anything large enough to accommodate the plant will work, as long as you add drainage holes.
My suggestion is to look at all food containers before you throw them away and evaluate their usefulness. Small containers such as those that hold cottage cheese can be used for herbs. If you want to maintain a certain colour scheme or appearance, you can easily paint the containers with non-toxic paints - your kids would enjoy doing this and then they could follow up with sowing some seeds into their new container garden creations.
---
Old Sinks
---
A great container gardening idea is an old sink - belfast sinks are ideal - perfect for root crops like carrots (I only grow Early Nantes carrots in containers - throughtout the summer). Leave the sink as you find it, if it fits in, but you can also apply hypertufa treatment to it, a way of making it look and weather like stone.
Hypertufa consists of cement, sand and fine peat blended together with water to make a moist consistancy. The surface of the sink is covered with a bonding material and left to go tacky. The hypertufa mix is then applied all over the surface. Again you can be creative here and press shells etc into the surface or etch a design over the surface. Painting the surface with something like yogurt will encourage moss to develope.
---
Used Tyres
---
You might think that vegetable container gardening is quite restricted in getting the depth required by some vegetable plants - for growing carrots or parsnips...
Not so!
Old tyres are great garden containers because they can be stacked to create the depth required - to make them more attractive (if that were possible :0 ) try a coat of paint.
How about an old wheel barrow, recycle old wood to make boxes, concrete blocks, I've even seen a picture of an old rowing boat brought into use as usefull container gardening idea - ideal if your prone to flooding...
---
Start Composting
---
A large plastic coffee-can will work well for composting. This container gardening idea will allow you to make your own fertilizer. You will need to drill holes all around the can to allow air to circulate.
You might want to keep the can or cans outside, because they can start to smell as vegetable peels and other items start to decompose. You'll need to add a little dirt to the pot in order for the composting process to begin.
When you are ready to plant, you will mix one part compost with two parts soil or growing medium. You have made your own organic fertilizer and reused even more garbage. I hope you have enjoyed these green container gardening ideas. You'll enjoy your vegetables even more if you feel good about the whole process.
---
Examples Of Tomato Seeds For Containers
---
Return to Container Vegetable Gardening